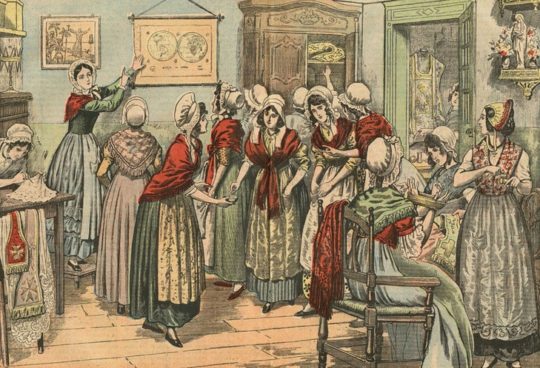 A photo of Pauline where she is showing the expansion of the Missions.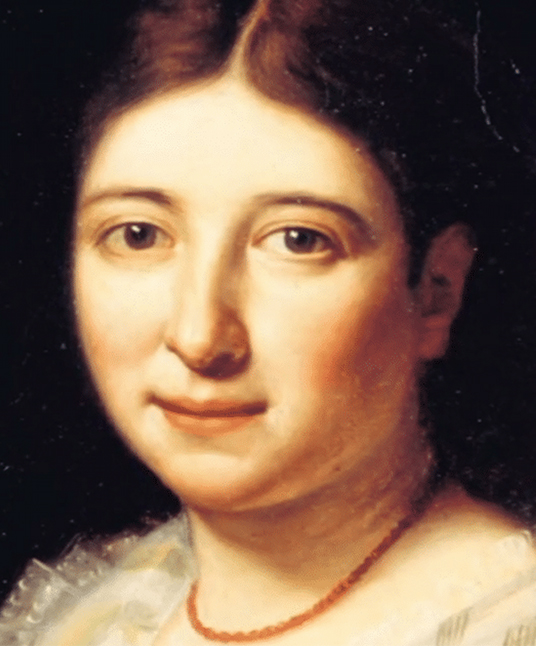 Portrait of 1815, retouched
in the following years.
A Christian Laywoman and
a missionary
Her life
Pauline-Marie Jaricot (1799-1862) is well known in our world and is a woman of exceptional quality. She was born into a well-to-do family of silk merchants in Lyon. She experienced a meteoric conversion at the age of 17 and consecrated her life to God with a solemn vow in the chapel of the Virgin Mary in Fourvière in Lyon. With a whole host of initiatives she set out to relieve all the misery and suffering all around her. She created the Living Rosary movement, a prayer chain which exists still today.
Her work
But what she wanted to do above all was to spread the Gospel throughout the whole world by supporting the Missions. To do so she launched the Movement for the Propagation of the Faith, which was central to the functioning of the Pontifical Missionary Societies, in which each donor should find ten others and, in so doing, would play the role of being an active member of the missionary network of the Church. This Mother of the Missions saw her first miracle recognised by the Church. Watch her story unfold…
Meeting up with Pauline
Pauline &
the propagation of the faith
Xiri onlajn.
Stieden lil Pauline fid-dar tiegħek! Fittex artikli reliġjużi, kotba u ritratti waqt li qed tixtri onlajn.

IIngħaqad b'mod attiv mal-missjoni: itlob għall-Knisja missjunarja u ħeġġeġ lil ħaddieħor biex jagħmel l-istess.

Bħal Pauline Jaricot, aħna lkoll imsejħin biex nagħmlu l-messaġġ tal-Vanġelu jiddi f'kull rokna tal-pjaneta tagħna, bit-talb u billi nieħdu sehem bħala evanġelizzaturi. Segwi l-eżempju ta' Pauline fit-talb għall-Knisja universali u fl-appoġġ tas-Soċjetajiet Missjunarji Pontifiċji!