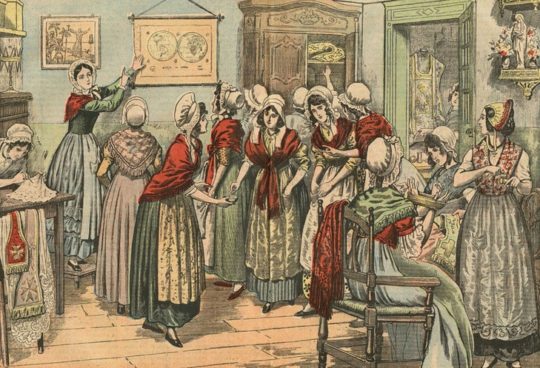 A photo of Pauline where she is showing the expansion of the Missions.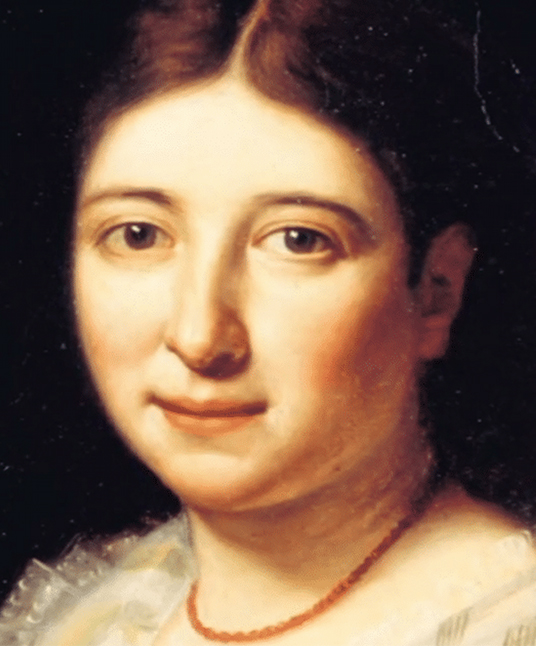 Portrait of 1815, retouched
in the following years.
A Christian Laywoman and
a missionary
Her life
Pauline-Marie Jaricot (1799-1862) is well known in our world and is a woman of exceptional quality. She was born into a well-to-do family of silk merchants in Lyon. She experienced a meteoric conversion at the age of 17 and consecrated her life to God with a solemn vow in the chapel of the Virgin Mary in Fourvière in Lyon. With a whole host of initiatives she set out to relieve all the misery and suffering all around her. She created the Living Rosary movement, a prayer chain which exists still today.
Her work
But what she wanted to do above all was to spread the Gospel throughout the whole world by supporting the Missions. To do so she launched the Movement for the Propagation of the Faith, which was central to the functioning of the Pontifical Missionary Societies, in which each donor should find ten others and, in so doing, would play the role of being an active member of the missionary network of the Church. This Mother of the Missions saw her first miracle recognised by the Church. Watch her story unfold…
Meeting up with Pauline
Pauline &
the propagation of the faith
Pauline and the Propagation of the Faith
Inspired by Pauline Jaricot and created in 1822, the Propagation of the Faith was raised to the status of a Pontifical Work in 1922. It contributes to the life of the most destitute dioceses by evangelisation and catechesis, and every year finances more than 5,000 projects throughout the world. Today it takes the leading role in the Pontifical Missionary Societies (which are to be found in more than 140 countries).
The Pontifical Mission Societies
"The PMS are a tool for cooperation  in the universal mission of the Church in the world. Through their action, the proclamation of the Gospel is just as much carried out by helping ones's neighbour, bringing justice to the very needy, making education possible in the most neglected villages, offering medical help in remote areas, wiping out misery and destitution, helping those who are marginalised to have a life with dignity, supporting the development of peoples, eradicating ethnic divisions, in every possible way showing respect for the life of every single person."
His Holiness Pope Francis.
Shopping online
Invite Pauline into your home. Do your shopping online for religious books, pictures, various articles.
« Join this mission : pray and encourage others to pray »


Like Pauline Jaricot, we are all called to bring the light of the Gospel message to the very ends of the earth, by prayer and taking an active part in evangelisation. Carry on Pauline's actions by praying for the universal Church and supporting the PMS !