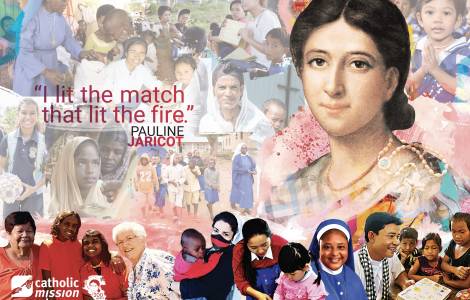 Telling and sharing the commitment to the missionary world in 2022, led by Pauline Jaricot
On the eve of significant anniversaries and events planned for the year that has just begun, relating to the history of the Pontifical Mission Societies, "Catholic Mission", the National Direction of the PMS in Australia, aims to strengthen digital communication. In view of events such as the bicentenary of the Pontifical Society for the Propagation of the Faith and the beatification of its foundress, the Venerable Pauline Jaricot, on May 22, the goal is to share what has been done, recounting the activities carried out in favor of the missions in various parts of the globe, addressing donors but also those who do not know the missionary world.

"For us 2022 is special year for us as it marks significant anniversaries, we remember our roots – explains Father Brian Lucas, National Director of the Australian PMS, in a note sent to Fides -.

The beatification of Pauline Jaricot represents an important stage in the path of recognition of the holiness of the foundress of the Pontifical Society for the Propagation of the Faith. We continue to be guided by Venerable Jaricot's great love for prayer and charity in all our missionary activities and at the same time we look to POPF as a milestone for our commitment, being the first of the PMS to be founded".
Among the communication initiatives in program, there is the launch of a new monthly newsletter, entitled "Mission Today Digital", which was created with the aim of nourishing the missionary spirit by sharing stories that can make concretely understood the commitment that is put in place to improve people's lives.

"It is a window that we want to open every month on the mission – explains Father Lucas – We invite you to walk this missionary journey with us. Each month we will take you 'behind the scenes' of Catholic Mission and as we share the work we are doing around the world, we will meet some of the people who are making it happen".

In the note from the Australian PMS it is recalled that 2022 also marks the centenary of the motu proprio "Romanorum Pontificum" of Pope Pius XI, with which the Holy Father designated as "Pontifical" three of the four Mission Societies (the Pontifical Society for the Propagation of Faith, the Pontifical Society of Missionary Childhood, and the Pontifical Society of St. Peter the Apostle) and the 400 years of foundation of the Congregation for the Evangelization of Peoples. Finally, for 2022 Catholic Mission has launched an appeal to support the education and formation of missionary novices, focusing its attention and commitment on specific stories such as that of Teresa, a Salesian novice whose details and information can be found in the section dedicated to the Catholic Mission website.
http://www.fides.org/en/news/71511-OCEANIA_AUSTRALIA_Telling_and_sharing_the_commitment_to_the_missionary_world_in_2022_led_by_Pauline_Jaricot